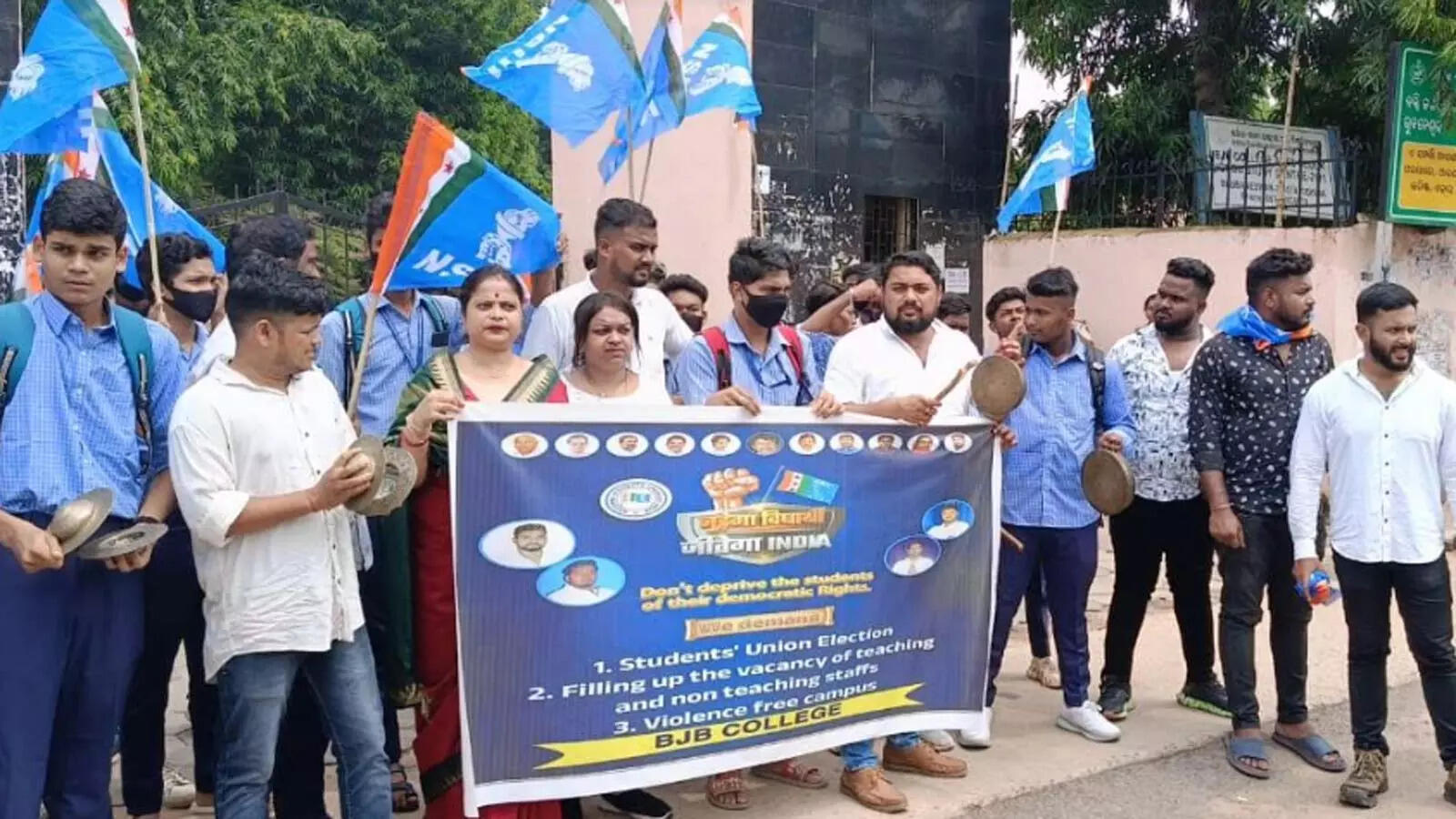 Thank you for reading this post, don't forget to subscribe!
BHUBANESWAR: On Monday, the National Students' Union of India (NSUI), the student wing of the Congress, staged demonstrations in front of various degree colleges and state public universities across the state, including the capital city, demanding Students' Union elections.
NSUI members held protest dharnas and demonstrations while beating cymbals. Yashir Nawaz, the state president of NSUI, stated, "We have been demanding campus elections since 2018, but no one is paying attention to our pleas. Government authorities are in a deep slumber, and we are beating cymbals to wake them up from their deep sleep."
Yashir, who participated in the demonstrations and protest dharnas at Utkal University, BJB Autonomous College, DR Nayapalli College, and other colleges, said that students are being denied their democratic rights because the government is not holding campus elections in the state. He added that violence on campuses is increasing, and various issues are affecting higher education institutions.
Yashir mentioned the acute shortage of teaching and non-teaching positions in higher education institutions and the need for student representatives to address these issues. He emphasized the demand for campus polls to be reinstated.
In July, students from different higher education institutions and their affiliated organizations urged the state government and institution authorities to hold Students' Union polls this year. Campus elections have not taken place in the state since 2018.
The NSUI student leader suggested that the government may be avoiding opposition from well-informed and awakened students by not conducting campus elections.
function loadGtagEvents(isGoogleCampaignActive) { if (!isGoogleCampaignActive) { return; } var id = document.getElementById('toi-plus-google-campaign'); if (id) { return; } (function(f, b, e, v, n, t, s) { t = b.createElement(e); t.async = !0; t.defer = !0; t.src = v; t.id = 'toi-plus-google-campaign'; s = b.getElementsByTagName(e)[0]; s.parentNode.insertBefore(t, s); })(f, b, e, 'https://www.googletagmanager.com/gtag/js?id=AW-877820074', n, t, s); };
window.TimesApps = window.TimesApps || {}; var TimesApps = window.TimesApps; TimesApps.toiPlusEvents = function(config) { var isConfigAvailable = "toiplus_site_settings" in f && "isFBCampaignActive" in f.toiplus_site_settings && "isGoogleCampaignActive" in f.toiplus_site_settings; var isPrimeUser = window.isPrime; if (isConfigAvailable && !isPrimeUser) { loadGtagEvents(f.toiplus_site_settings.isGoogleCampaignActive); loadFBEvents(f.toiplus_site_settings.isFBCampaignActive); } else { var JarvisUrl="https://jarvis.indiatimes.com/v1/feeds/toi_plus/site_settings/643526e21443833f0c454615?db_env=published"; window.getFromClient(JarvisUrl, function(config){ if (config) { loadGtagEvents(config?.isGoogleCampaignActive); loadFBEvents(config?.isFBCampaignActive); } }) } }; })( window, document, 'script', );



Source link