Thank you for reading this post, don't forget to subscribe!
Whether you are a school student or an employee, writing a leave application is a skill that you must know about. While we know that one needs to keep a formal tone as well as a precise structure, there are many elements of this document that often get overlooked. Further, it is important to comprehend the format and its key components so that you can jot it down in a well-written way. Through this blog, we aim to bring you a detailed guide on the structure, format, and components of a leave application along with some helpful samples.
What is a Leave Application?
The medium through which you formally inform your office management or school administration about your absence is referred to as a Leave Application. The format, details, and elements of the application can vary based on whether you are in school, college, or office. The skill of drafting this document is much more helpful during your professional journey as you might need to take a day off from work.
Must Read: Letter Writing – Format, Samples & Tips
Things to Mention in Leave Application
Addressing or extending a greeting to the recipient
Subject line
Cause of departure
Required number of leaves
Specifics about your pay at work
Contact details
Signature and name
Also Read: How to Write an Application to the Principal?
Types of Leave Application
The types of leave applications will mainly depend on your reasons. Some of the commonly used forms are as follows:
Sick Leave
Casual Leave (For family emergencies, personal issues, etc.)
Annual Leave
Study break
Vacations
Short Trip
Urgent work
Maternity/Paternity Leave
Half-Day Leave
One-Day Leave
Also Read: Bonafide Certificate: Format, Application & Documents
Leave Application Format
Now that you know its elements as well as types, the next step is to get familiarised with its format. Whether you are writing the application as a school student, employee or intern, there is generally a simple format that one needs to follow. The leave application letter format is as follows:
Reasons
Mentioning the reasons for absence is a crucial part of the application. The reason for absence is the sole reason why we write the application and what is it for. Here are some of the major reasons for leave application:
Health-related issues such as sick leave, leave for surgery, etc.
Family emergency
Going out of the city
Personal reasons (attending a marriage, family function, personal tasks, etc.)
What to Include?
Now that you are familiar with the types and format, let us have a look at the details that need to be mentioned in an application:
Paragraph 1
Begin with providing your necessary details to the concerned person (to whom you are addressing it) and inform them about why and when you need the leave. Try to keep a formal tone and the content as precise as possible. Do not write lengthy paragraphs.
Paragraph 2
This part is mainly for employees as you will be expected to provide the current status of your work projects. You can suggest your manager to hand over the work to any of your team members. In this part of the application, you mainly have to elaborate on how you will be compensating for your absence, i.e. either by finishing up the work before leaving or delegating it to someone.
Paragraph 3
While concluding the document, pay your gratitude to the employer for considering your application and greeting them with a sincere 'Thank You'. Also, you can mention your phone number for any emergency as well.
How to Write a Leave Application for School?
As there are different types of leave applications for various purposes, it might be confusing to write an application for leave that fits your aim. The quintessential elements are:
1. Subject
2. Reason for Taking the Leave
3. Period you are taking the leave for
4. Contact Information
5. Any additional documents should be enclosed.
Once you have all these details ready, you can move toward drafting the application. Make sure that it is written in a formal tone and adheres to straightforward explanations without elaborating details too much.
Also Read: How to Write a Motivation Letter?
Application for Leave in College
The following are the basic elements of writing an application for leave in college:
Salutation
Subject (Leave for Personal Tasks or any other reason)
Mention the reason for leave
The number of leaves you require with particular dates
Align your duties and tasks to other team members during your absence
Contact details
Signature
Let's look at the example of an application for leave in college.
How to Write Leave Application for Office?
To write an official application for leave, you need to simply write down your manager's name on the top left side followed by your name and position. Then, add a subject and the main body beginning with "This is to bring to your kind notice" or "This is to inform you that" and then mention the reason for taking leave from work. Here are the key points to include in an office leave application:
Salutation
Subject (Leave for Personal Tasks or any other reason)
Mention the reason for leave
The number of leaves you require with particular dates
Work plan or delegation of your tasks to other team members during your absence
Contact details
Signature
Also Read: Relieving Letter Format
Leave Application for Office
Here is a sample letter for personal reasons such as attending a marriage, family function, etc.
Also Read: Formal Letter Format
Samples for Leave Applications
Following are the top samples for leave applications:
One-Day Leave Application
Medical Leave Application
Looking for a leave letter for fever? Here is a sick sample: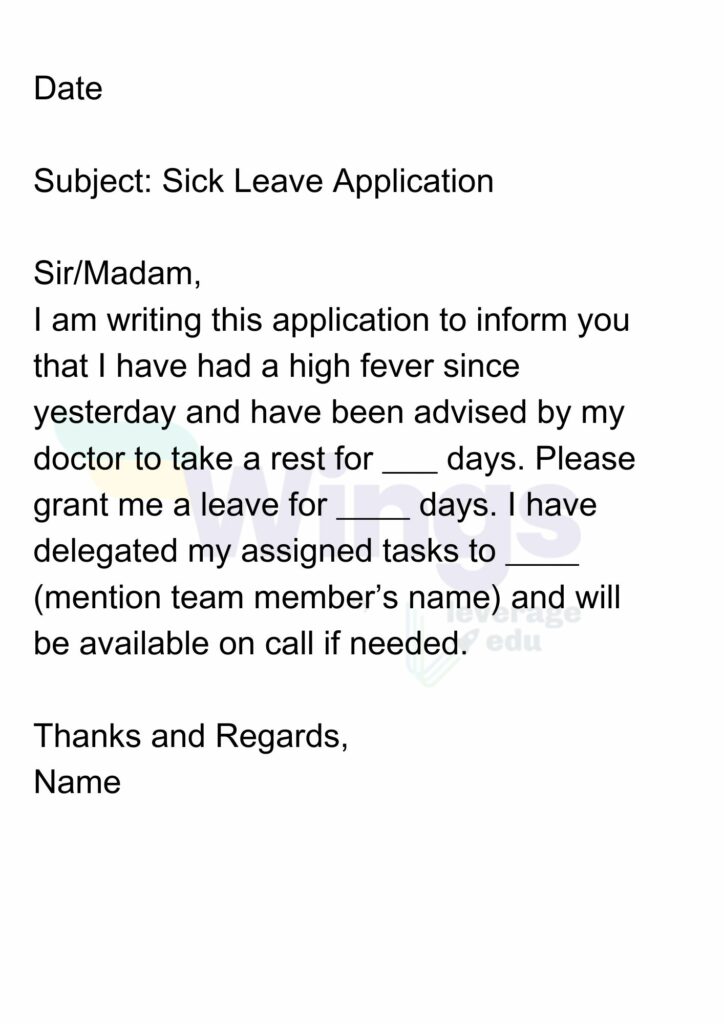 Leave Application to Principal
College Leave Application
Annual Leave Application
Maternity Leave Application
Paternity leave Application
Vacation Leave Application
Leave Application for Marriage
Bereavement Leave
A Bereavement Leave is a leave application for up to 4 weeks at 100% of your base salary, for a total of 20 working days in the event of the death of a loved one. Bereavement Leave is usually a paid leave. It can also be used during the grave illness of family members.
Leave Application due to Death of Family Member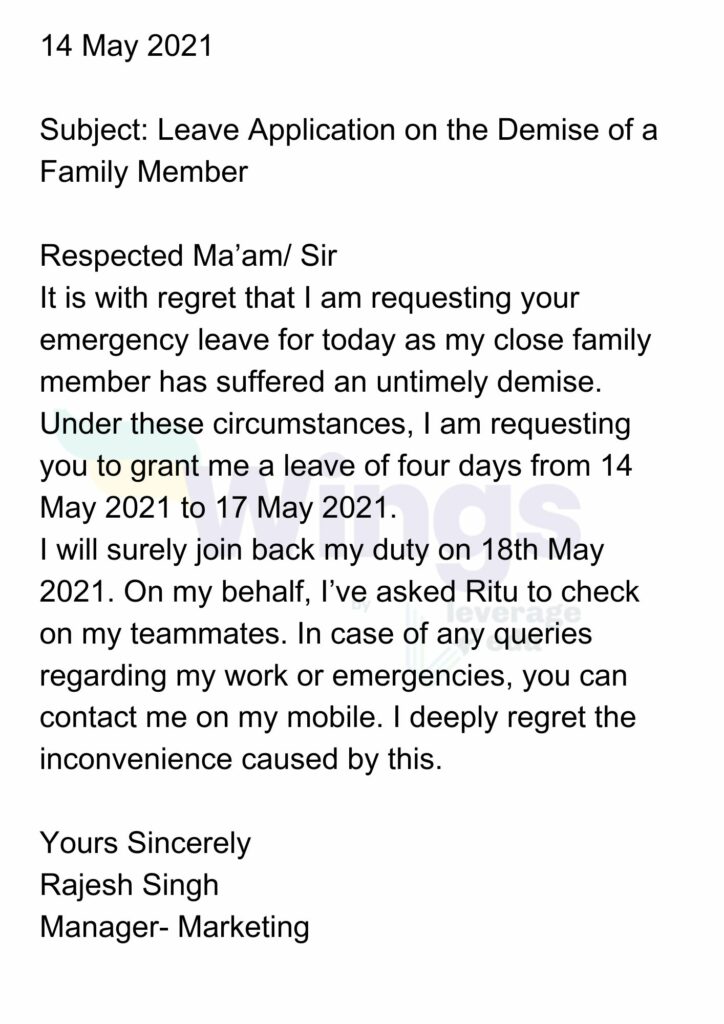 Emergency Leave Application
Half-Day Leave Application
Application for Eye Surgery
Leave Application to School for Going Out of Station
Leave Application Email
While millions of leave applications are written every day, most of the office applications are written through emails. So, let's check out the Leave Application in Email format:
Tips to Write a Perfect Leave Application
Use a formal tone while explaining the reason for taking a leave.
Write in simple language without using jargon.
Proofread the application before sending it.
Keep it to the point.
If you are sending this application as a parent, then specify the relationship.
FAQs
How can I write a leave application?
There is a simple format for any application which includes the following pointers:
1. Recipient's Name
2. Subject (Purpose of the Leave Application
3. Salutation
4. Main Body of Content (Mention your details, reason, leave period, and any additional or related details)
5. Closing line (Yours Sincerely, Thanks and Regards, etc.)
6. Contact Details
How to write a leave application to the boss?
To write an application to your boss, here's what you must include:
1. A request for a leave
2. Number of days with the date that you want the leave for
3. What is your work plan in your absence?
4. Mention the colleague if you are delegating your work to someone
5. Offer assistance in completing the work in your absence
6. CC your HR Manager in the e-mail
How to write a leave of absence?
The leave of absence can be written for school or work whether it's casual or sick leave. For a leave of absence for school, mention the leave period, the total number of days and the reason for the leave. For a leave application for work, you must follow these pointers along with mentioning the colleague to whom you are handing your work responsibilities.
How does a teacher write an application for leave?
Teachers are permitted to apply for sick leaves, casual leaves, and emergency leaves, among
others. Here is a sample of leave applications for teachers:
Dear Principal,
I am Raadhika, the English teacher for 11th grade. I am writing for a one-day leave for tomorrow [add date] since I have to [mention reason]. Kindly approve a one-day leave. Thank you.
Yours Sincerely,
Raadhika
Where do you put the date on a leave application?
On a leave application, the date is placed on the left side after the sender's address. You must also mention the date of the leave in the body of the content along with the reason as well.
What is a leave letter?
A leave Letter is an application written to ask for a leave from the concerned individual which can be the principal for a school leave application or a manager for a work leave. A leave letter or application can be of different types as per the purposes for absence ranging from personal reasons to sick leave or maternity leave, etc.
This was all about leave application! To read more informative articles like this one, keep following Leverage Edu.
The post How to Write a Leave Application? appeared first on Leverage Edu.