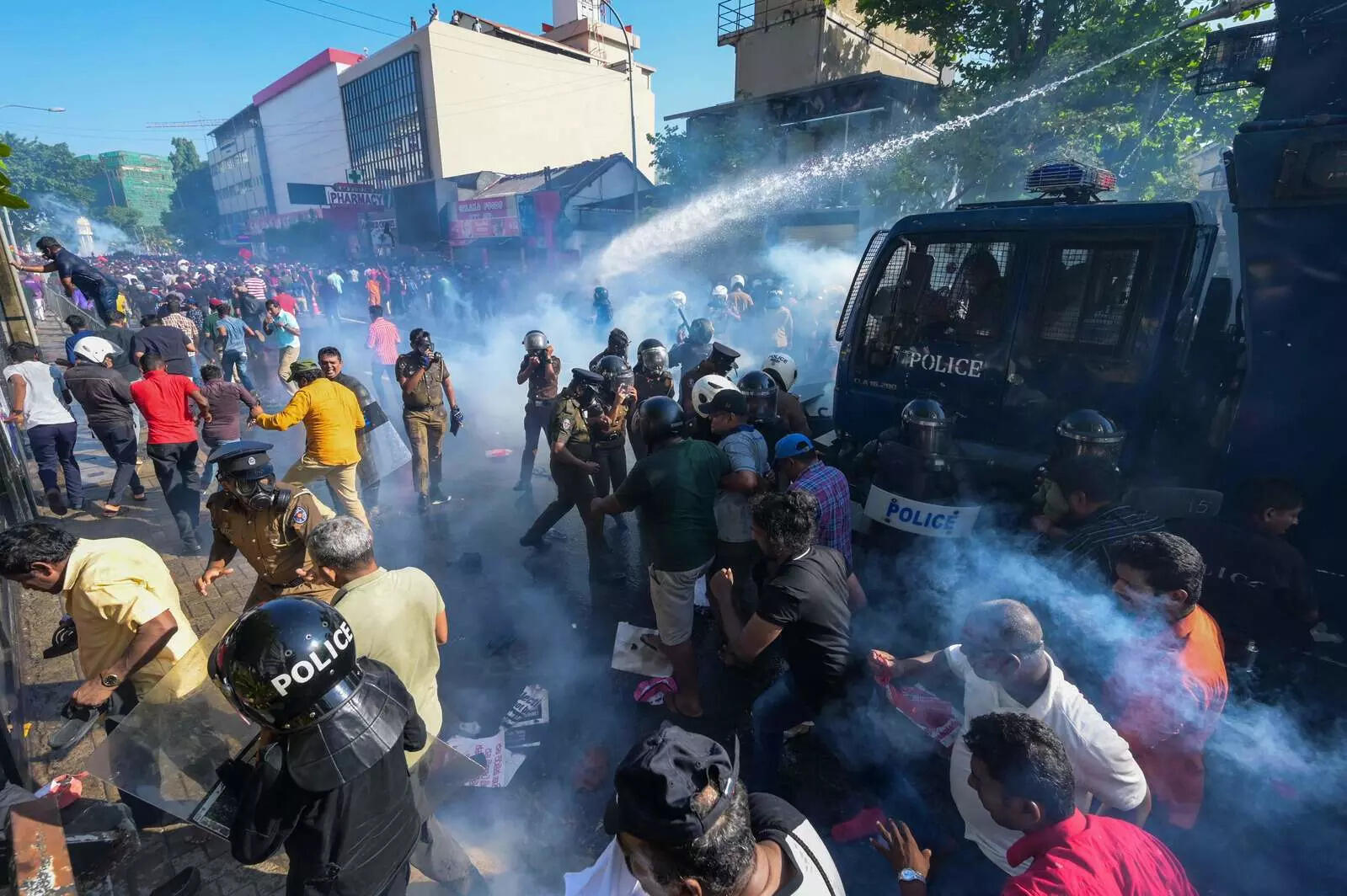 COLOMBO: Sri Lankan police on Sunday fired tear gas and water cannons to disperse a protest march organised by the country's main opposition coalition here against the delay in local body polls. The
Election Commission
on Friday formally announced that the local body elections would not be held on March 9 as planned, and a fresh date will be notified on March 3.
The protest march and rally organised by the National People's Power urged President
Ranil Wickremesinghe
's government to hold the local body polls.
Police tried to disperse the protesters and fired water cannons and tear gas twice at the Union Place area of central Colombo, where authorities had blocked several access roads.
The police obtained orders from the Colombo Fort Magistrate Court, preventing 26 people, including the NPP Leader Anura Kumara Dissanayaka, from entering areas around the President's Office and President's
House
until 8 pm on Sunday.
The NPP leaders carried a banner during the march, which said, "let's defeat the government's cowardly attempt to bury democracy by not holding the election".
Opposition parties like the Samagi Jana Balawegaya (SJB) pin the blame on Wickremesinghe, who is also the country's finance minister, for trying to sabotage the local body polls by blocking the funds from the Treasury.
They are also accusing him of influencing the state officials and the Election Commission against the holding of the polls, fearing a loss.
The election to appoint new administrations to 340 local councils for a four-year term has been postponed since March last year due to the ongoing economic crisis.
The government has indicated repeatedly that the time was unsuitable to hold the election, given the economic crisis.
It said the scarcity of money to hold the election costing Rs 10 billion would bring additional pressure on the already lean state finances.
Despite the uncertainty around the elections, the main opposition party has been campaigning vigorously and is thought to have a good chance of winning control of a sizeable number of seats.
Sri Lanka was hit by an unprecedented financial crisis in 2022, the worst since its independence from Britain in 1948, due to a severe paucity of foreign exchange reserves, sparking political turmoil in the country that led to the ouster of the all-powerful Rajapaksa family.