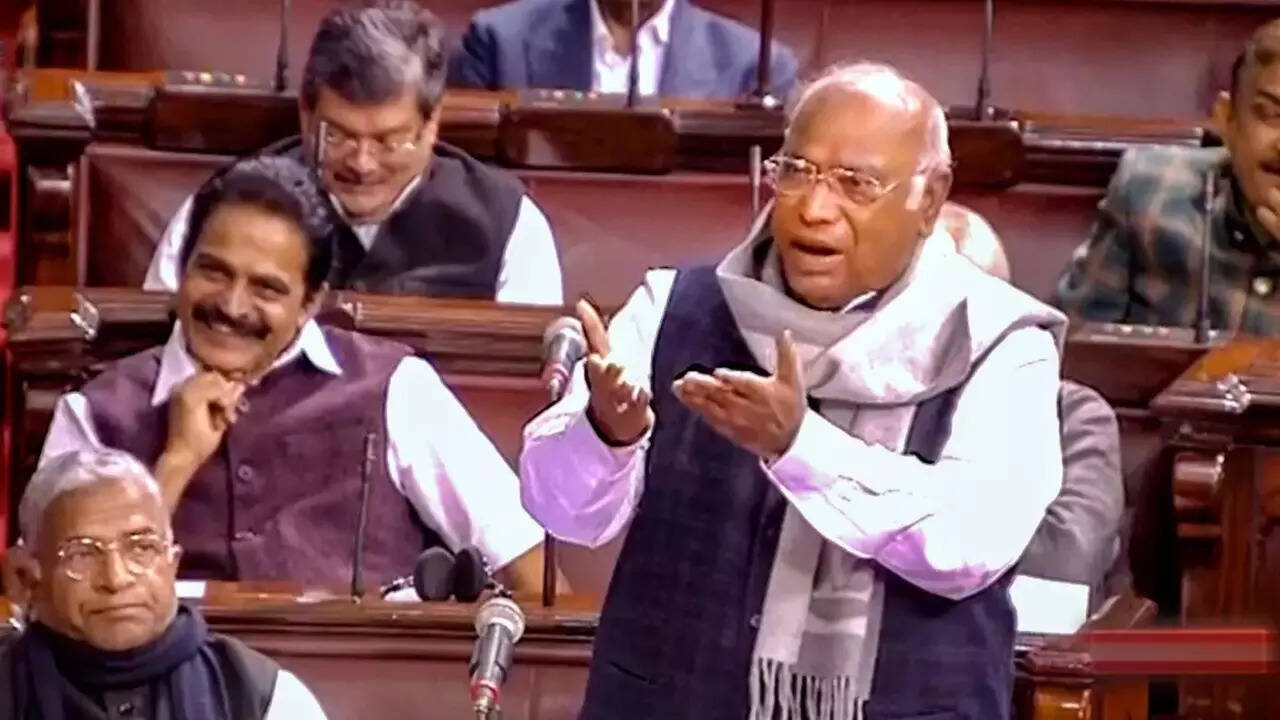 NEW DELHI: Questioning the adverse action on his remarks during a speech, leader of opposition in Rajya Sabha Mallikarjun Kharge on Thursday told chairman Jagdeep Dhankhar that any direction or rule of the House cannot subvert the constitutional guarantee of freedom of speech granted to members of Parliament, and any
criticism
of the
government
and its policies can never be equated with the "dignity" of the council of states.
Kharge shot off a scathing letter to Dhankhar, arguing that criticism of government policies and decisions, and their fallout, cannot be construed as allegation against any member of the House.
Certain remarks made by the Congress president on Adani issue during the discussion on the "Motion of Thanks" on Wednesday, were expunged from the records, and he was also repeatedly asked to "authenticate" his observations.
While claiming that he had made no personal charge, Kharge lamented that it would be an "inversion of the system of governance" if the opposition members were "expected to carry out complete investigation, gather evidence and then raise a matter on the floor of the House".
He said an MP is only required to authenticate the document that he lays on the table of the House. "There is no convention or provision of authentication of points made in a speech on the floor of the House. Any direction or rule of the House cannot subvert the constitutional guarantee of the freedom of speech," he wrote.
He said the institution of Parliament is a platform to fix the accountability of the Executive, which necessitates that the policies and decisions of the government are discussed, dissected and debated on the floor of the House.
"The arrangement, as I understand, is that the opposition member, or any private member, raises issues on the basis of inputs from media, reports in public domain, or even confidential personal information. The member, after due diligence, draws the attention of the House to such issues and it is incumbent upon the government to investigate the matter and take appropriate action in consonance with the law of the land," he said, urging the chairman to defend the privileges of the MPs.
Kharge was backed by fellow MPs, who demanded that the decision be reviewed and the expunged remarks be taken back into the records.