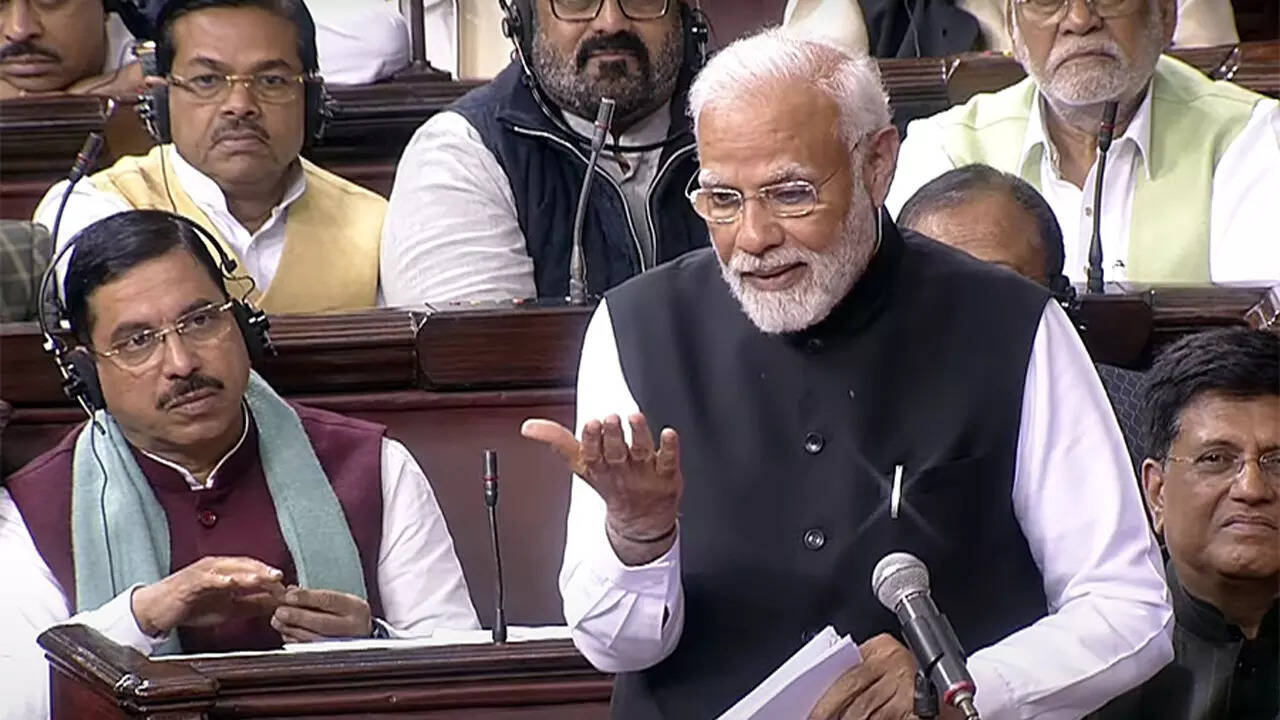 NEW DELHI: PM Modi on Thursday launched a fresh offensive against the Congress, this time in Rajya Sabha, amid heavy and constant sloganeering by the opposition parties demanding JPC probe against
Adani group
.
Replying to the Motion of Thanks on President's address in Rajya Sabha, PM Modi accused the Congress of slowing India's progress by resorting to tokenism in the name of development and wasting 6 decades of the country.
"Congress never tried to solve India's problems. Country is with us, people have rejected Congress party and punished them from time to time," PM Modi said taking a dig at the grand old party's decline.
On Tuesday, the Prime Minister had ripped into the opposition, especially the Congress, calling the 10-year UPA rule in the country as "lost decade."
PM Modi's "keechad and lotus" jibe at opposition
PM's speech in the Upper House was disrupted by constant sloganeering by the opposition parties which demanded a joint parliamentary committee(JPC) probe into allegations of accounting fraud by the Adani group.
However, PM Modi continued with his speech and highlighted the various development measures undertaken by the NDA government in the last 9 years.
With the opposition chanting "Modi-Adani bhai bhai", PM Modi took a swipe at the protesting members saying their acts help the
BJP
flourish further.
The more "keechad" (dirt) you will fling, the bigger "kamal" (lotus) will bloom, PM Modi said.
"Language, behaviour of some in the House is disappointing for India," he added.
The Prime Minister alleged that the opposition using half truths to create new narratives, spread falsehood.
He said the opposition is against science, technology; they are not bothered about country, but only about their politics.
True secularism
Prime Minister Modi accused the Congress of pracitising appeasement politics.
"Congress party's economic, social and political policies were based on vote bank politics," PM Modi said.
"We have decided to achieve saturation levels in schemes to benefit everyone during 'Azadi Ka Amrit Kaal', this is true secularism," PM Modi said.
"This will put an end to all kind of appeasement," he added.
'BJP trying to find permanent solutions'
PM Modi highlighted the achievements of NDA in the last 6 years and said "our government's polices are focused on finding permanent solutions for issues facing country."
PM Modi said Rs 27 lakh crore has been given to beneficiaries through DBT using 'Jan Dhan Aadhar Mobile' trinity in the last few years.
"Our government's polices are focused on finding permanent solutions for issues facing country. We don't think about political gains," he said.
Slamming the Congress for tokenism, PM Modi said, "merely expressing intent doesn't work, what matters is speed, direction and result of developments ushered in."
PM Modi cited numbers to show how the pace of development increased after 2014.
"Our govt has extended potable water supply to 11 crore houses in last 3-4 years against only 3 crore pre-2014," he said.
"More than half of the population without banking facilities till 2014, now 48 crore accounts opened in last 9 years," PM Modi said.
"Voice of small and marginal farmers not heard in past, now our govt working for their welfare," he added.
"Why is Gandhi family scared of using Nehru title"
PM Modi slammed the Congress for questioning the renaming of old government schemes.
"Congress named schemes are Nehru-Gandhi family, but our government has named schemes after the achievers of India," PM Modi said.
"If Nehru was such a great person, why the family shies away from using 'Nehru' surname," PM Modi said in a dig at the Gandhis.